Best laptop backpacks in 2021
You need a comfortable backpack for your laptop in order to safely carry it around with you. Backpacks not only make it easier for you to take your laptops with you but also enhances your looks.
Backpacks is the preferred way of carrying personal belongings like laptop etc. But it is often hard to decide the best bags when there are a lot in the market.
In this buying guide, we are going to introduce you with some of the best backpacks which will help you decide the most suitable bag for you and for your journey.
Things to consider while buying a Backpack for laptop:
Size
Of course, the size of the backpack should be considerable when buying it. The size of the bag should be large enough to fit your necessities like laptop, mobile phone comfortably.
The main compartment should be roomy enough to hold not your laptop but all your others vital necessities like wallet, perfume and charger etc.
Weight
Weight is the other factor to be observed when buying a laptop backpack. The lighter the bag is the easier it would be to carry your items.
One of the most important aspects that you should observe is the material the bag is made of, generally there is a water-resistant category of the bag which ultimately leads to the durability of the bag and helps you even if there is raining out there.
Now, let's explore our list of best backpacks for laptops.
A Sleek well Organized Aer Daypack 2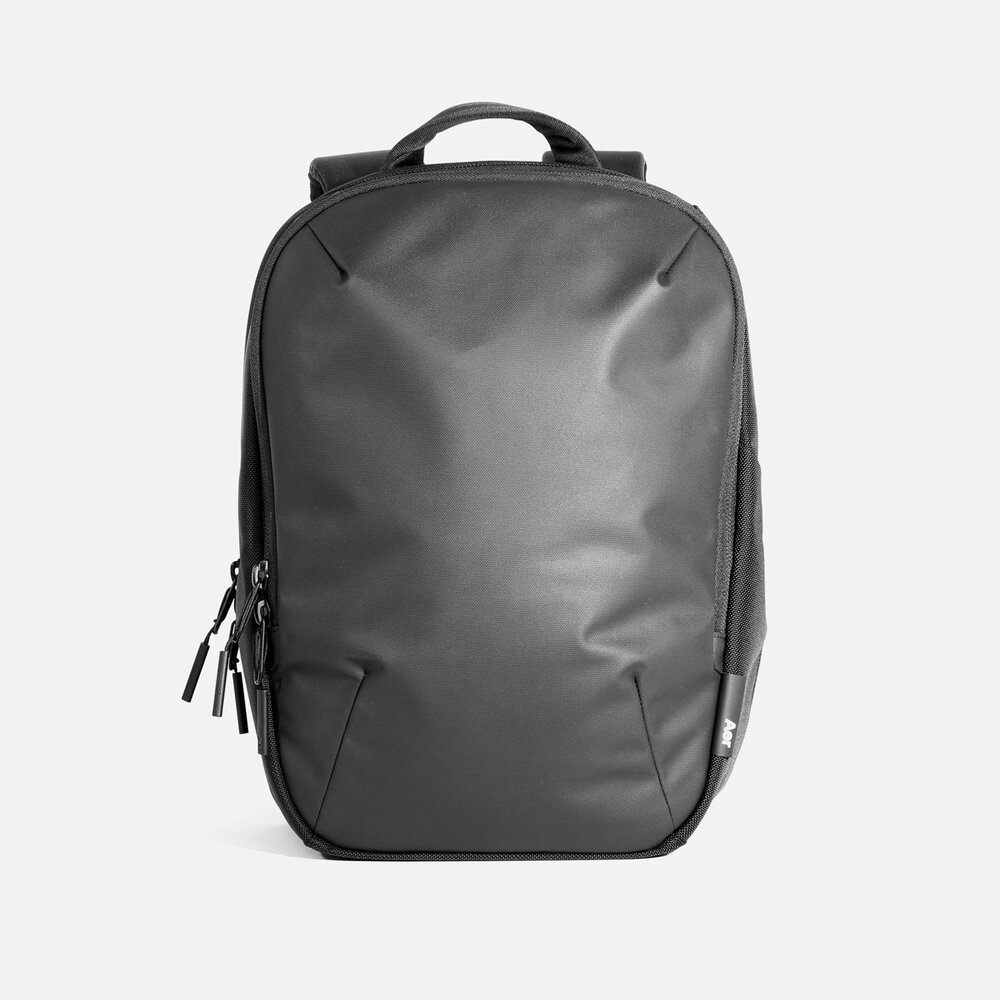 The Aer Daypack 2 is one of the best options if you prefer something that could hold all your office tech including laptop and mobile in a stylish way.
Who is it for?
The Aer Daypack 2 is for all those who need all office worth items to carry yet also enhance their style as well. Even though the bag contains many pockets but it stills looks less complex.
Why is it great?
The Aer Daypack 2 is a great choice because it offers a noticeable amount of organization all within a style.
As mentioned earlier, the backpack has many interior and exterior pockets so you would not miss any aspect that a bag should have. Additionally, the material used is weather resistant which means rain drops will easily ran off it.
The bag is designed in such a way that it almost matches with any kind of jeans worn when going outside. This is why it is a perfect choice by most of the students, commuters and travelers.
As there is a saying that a picture can say more than a thousand words, you can guess from the picture its full features.
Some Features:
Its dimensions are 17 by 12 by 51/2
Weight 2.9 pounds.
Maximum laptop size 16 inches.
Colour available black.
TIMBUK2Authority laptop backpack, Jet Black
Are you a frequent traveller with all your essential items? If yes, then the TIMBUK2 Authority backpack is for you. It hits a perfect design; you can comfortably carry all your work necessities in the bag.
Furthermore, this has plenty of rooms to accommodate your personal belongings like laptop and mobile phone with ease.
One of the features is that it has adjustable straps that could be adjusted enough to meet your height and width. Additionally, the fabric designed to help in preventing sweat at high temperatures.
Features:
Weight 2.4 lbs.
Overall dimension;4 x 18.1 x 5.9 inches.
Can accommodate 17 inches laptop.
One water bottle zipper.
The Authority backpack has wealth of pockets, so whatever you are taking with you the backpack will accept you.
Solo New York Briefcase, Gray, Black
Although, the Solo New York backpack looks like a simple laptop backpack the straps could be adjusted that can convert the backpack into a briefcase. This unique function makes it favourable among those who like backpacks with the professionality of a briefcase.
The dedicated laptop compartment can hold any of the most popular devices that measure up to 15.6 inches including MacBook, laptops and mobile devices etc.
Additionally, there is one large exterior pocket that can hold your extra stuff like chargers, wallets and credit cards etc.
Features:
Overall dimension; 5 x 5.5 x 17.3 inches
Weight: 2.05 lbs.
Can accommodate laptop up to 15.6 inches.
Mancro Slim Backpack with USB charging Port
This backpack stands unique among the others due to its anti-theft feature; this functional backpack offers high level of protection for your laptop or other valuable devices.
The dedicated laptop pocket can accommodate a laptop size up to 17 inches, plus there is a separate compartment for tables etc. The eye-catching feature is the availability of a USB charging port with a charging cable.
The Mancro slim backpack is made of water-resistant durable polyester with a metal zipper which leads to its perfection. The backpack is suitable for businessmen, students or commuters.
Features:
It weighs 1 lbs.
Its dimensions are 20 by 13 by 6 inches.
USB charging port with a cable.
eBag Professional Slim Laptop Backpack
You will never run out of space as far as space is concerned because this backpack is famous due to its clever use of space. This bag does also provide the professional slim feature.
Durability and reliability are also the aspects that are observed while buying this bag.
The bag is made of twisted poly fabric, and the sophisticated design makes it considerable for daily use. The main compartment can accommodate a laptop size of 17 inches while there are plenty of pockets for small items like cards etc.
Features:
it weighs 3.3 lbs.
its dimensions are 8.5 by 18 by 12.8 inches.
Conclusion:
Laptop Backpacks : Laptop backpacks are the need of almost anyone who carries their personal objects to their offices, travel or even while shopping.
The need for a backpack pushes an individual to go and buy the best one among the rest of its alternatives. So, which one to buy? Well, in this buying guide we introduced you to five of the best laptop backpacks to choose from.