Garmin launches Venu 2 and 2S smartwatches of Venu series in India, Know Price
T
Garmin India, a unit of Garmin Limited (NASDAQ: GRMN), has launched the Venu® 2 and Venu 2SGPS smartwatches to provide users with tailored solutions for fitness and healthy lifestyles. The new Venu series is designed with attractive features that ensure the overall wellness of the user along with science-based tracking.
The new edition of the Venu series comes with the new built-in Health Snapshot feature, which monitors vital health data such as Heart Rate1, Heart Rate Variability, Pulse Ox2, Respiration, and Stress in 2-minute sessions, and more. To keep track of these, Garmin generates reports via the Connect™ app
Smartwatches come with a host of exciting features such as Respiration Tracking, Pulse Oxsensor, Body Battery Energy Monitoring, Stress Tracking, Pregnancy and Menstrual Cycle Monitoring, Sleep Monitoring, etc. to help users achieve their fitness goals while keeping an eye on their health. Commenting on the launch of the Venu 2 series, Mr. Ali Rizvi, Director, Garmin India, said, "Garmin has always strived to help its users lead an active and healthy lifestyle with cutting-edge technology. Venu and Venu SQ have received an overwhelming response from our domestic and overseas consumers.
To make fitness even more modern for our consumers, we have come up with the new Venu 2 and Venu 2S. These smartwatches are designed to provide complete workout guidance to the user and encourage an active lifestyle. The new smartwatches come with science-based tracking. Tucked on your wrist, these smartwatches will be your best workout partner and help you achieve your fitness goals.' Venu 2 and Venu 2s come with 45-mm watch case and 40-mm watch case respectively.
They have over 25 built-in sports applications, including pre-loaded enhanced high-density workouts, animated cardio, strength, yoga, pilates and more. Focus on Better Health The Venu 2/2S will get to know your body better with 24/7 health monitoring features like Heart Rate (with user-configurable alerts for high and low readings1), Fitness Age, Advanced Sleep with Sleep Score and With Insights, Respiration, Pulse Ox, All-Day Stress, Hydration and Women's Health (menstrual cycle tracking and pregnancy tracking.) Body Battery™ Energy Monitoring shows how charged a user's body is, allowing you to plan workouts, rest and sleep. helps in. The Venu 2/2S Advanced also monitors light, deep and REM sleep and movement, pulse aux and respiration.


---
---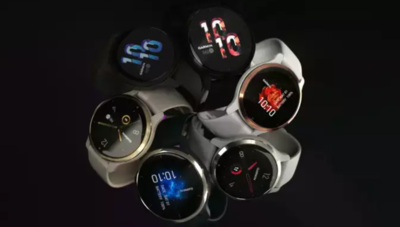 With the new Sleep Score powered by First Beat Analytics, the user also gets the quantity and quality score of the previous night's sleep. Additionally, through Garmin ConnectTM, the watch guides the user on how to improve the quality of his sleep. Venu 2/2s offer structured breath-work activities that promote focus and relaxation. Will Make Training Efficient Whether you exercise at home, at the gym or outdoors, with Venu 2 you will always be active and active. The new advanced strength training profile and workout put weight scaling and strength PRs and graphics on the device shows which muscles worked for you.
With new activity profiles for HIIT (including AMRAP, EMOM, Tabata and custom timers), indoor climbing, bouldering and hiking, the Venu 2/2S has over 25 indoor and GPS sports apps including walking, running, cycling, pool swimming, Golf, Pilates and Yoga and more. Safety and tracking features provide peace of mind with automatic accident detection (during outdoor walks, runs or rides) and manually triggered assistance alerts, and real-time location sending to emergency contacts. Through Live Track, friends and family can track the user's outdoor activities.
The Venu 2 Series simplifies fitness routines with a variety of workout options, including pre-loaded workouts on the Watch and preset workouts available for download on Garmin Connect. You can choose from 1400 types of exercises to 'Create'. You can also do your own customizable workouts. Over 75 preset animated workouts for Cardio, Yoga, Strength, HIIT, Pilates demonstrate the correct technique directly on the wrist or in the Garmin Connect. The Venu 2/2S is compatible with Garmin Coach Free Adaptive Training Plans you are training for or more. Stay all day now